Anybody remember me? The woman who blogs once every six months unless she's mad?  May I just say that I have scanned over 450 pages of family photographs since January 3rd?  Hmmm?  And that I'm going through one of my older books, Breaking Rank, word by word, comparing print version with manuscript so that I can stick that up on Amazon, too?  And in the cracks, sticking away Christmas – one holly leaf at a time?  Yes.  That woman.
Here is a fun thing: Deseret Book just published a gorgeous new book, an illustrated telling of a scriptural story: Lehi's Dream.  And my dear husband is the STAR of the book.  I am going to tell you the story.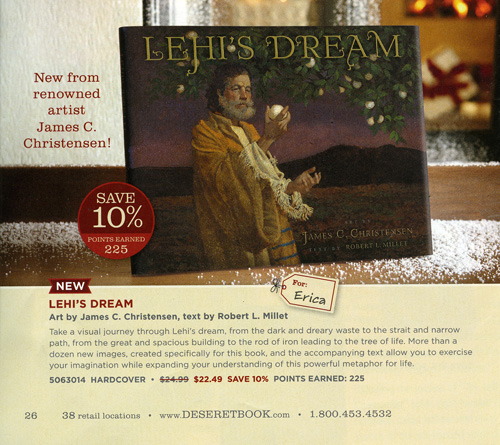 Long ago and far away, when we were all just out of school, my G and his writing partner Marvin wrote a lovely little story-with-songs called The Planemaker.  They had a young up-and-coming artist friend of ours, James Christensen, do a cover for the album.  He did a couple of treatments.  The one that ended up on the album now belongs – to somebody. I don't know who.  But the other one?  It languished in a corner of Jim's studio till he re-discovered it one day, and when G said, "I want that," Jim said, "You'll have to model for me to get it."
Years later, here came this book idea, and Jim called in the debt.  So he called us in and had G pose for Lehi.  And he let me hang around in Jerusalem robes too, even though I'm not young and glamorous anymore.  And even I ended up on the last pages of the book.
These are the pictures I shot of the photo session in Jim's studio:
The place has absolutely beautiful light.  I don't know how to build houses and things so that the light that comes into them is perfect.  Leave it to Jim to do that right.
Here is G, decked out in the basic costume.
And here is Jim, walking G through the storyboard.  Let me just say that I was not convinced about this modeling business.  I'm the actress in the family, after-all.  Not that I could have pretended to be a middle aged ancient prophet.
See what I mean about the light?  You see that sheety-looking drape back there on the back of the couch?  Even a plain old sheet looks like art in this place.
Improving on the basic robe.  I wonder if Western Culture will ever go through a robe and accessory period?  It'd be comfortable.
And there he is, lookin' like a patriarch.
In the story, Lehi stands beside the tree of life, aching with hope for his children, as he watches the people of the earth start to make their way to the tree – through hardships and sorrows.  The story is about wanting the right, most beautiful things and what getting to them may cost us.
The tree of life is, as it is said in the story of Eden, hung with wonderful fruit.  Jim used an orange to model the fruit, which was just the right thing.  When he handed it to G, he had the same response to the orange that he always has to oranges: he held it up to his nose and breathed in the fresh, sharp sent of it.  The scent reminds him of everything home: his family, the tiny orange grove in the backyard, Christmas morning.  And so it was a very good stand-in for the fruit of the tree of life – the scent of love, family and happiness.
Here, he calls to his family: come and have some of this lovely fruit.  Come and be happy.
Here is Lehi as he dreams his dream.  I see this every night and every morning.
Modeling is hard work.  G did it very well.  But while our backs were turned – after that last shot was set up – well – maybe he took his part just a little bit too seriously.